Harvey Weinstein Astrology Chart Update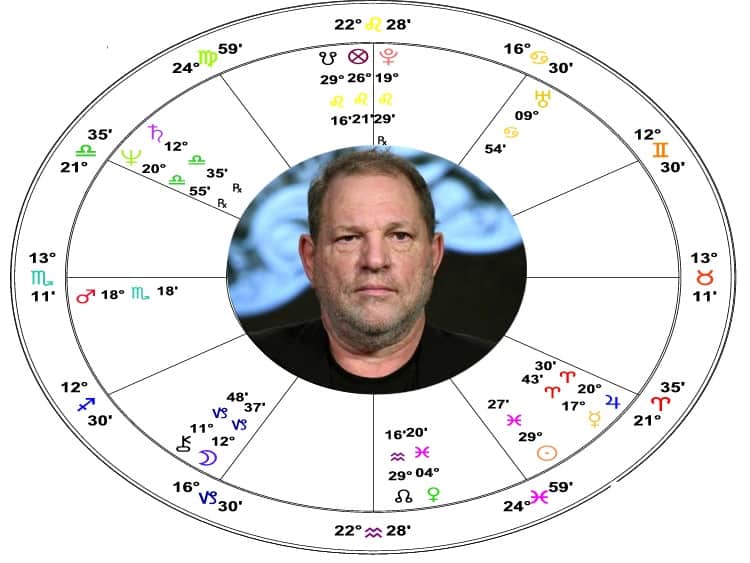 I discovered his time of birth! I rectified his Astrological chart by mathematically figuring the chain of circumstances. When a time of birth isn't known, getting dates of important events to calculate a possible time of birth is employed.
There are 5 other parts to this article Harvey Weinstein Part 1, Harvey Weinstein Part 2, Harvey Weinstein Part 3, Harvey Weinstein Part 4, and Harvey Weinstein Part 5. This rectification process takes time.
I calculated his time of birth as 7:56 pm. It was discovered to be 9:45 pm. I'm glad I got it as close as possible. That's ok. This serves as a tool to emphasize that rectification isn't an easy process. I'm glad though I didn't see it as a morning birth! It needed 1 hour and 49 more minutes. I used only a ballpark of periods instead of exact dates for the events of birth, marriage, divorce, etc.
The corrected chart is the rising sign is Scorpio with Mars conjunct to the Ascendant. This can add a lot of physical energy, sexual energy, and the possibility of twisting scenarios to fit into a specific mold. This placement can make a person jump into situations without scrutiny. It can make an individual very pushy, impulsive, demanding, and aggressive. Scorpio rules sex. Next, the chart ruler is a strong aspect conjunct the Midheaven. That is attaining a power career.
The big obstacle in this chart is Mars Square Pluto. To me, this was never about sex addiction. Instead, this was more about a misplaced will force that doesn't have an outlet. Negatively used, it can resort to power plays or as I refer to in a previous article- Power Fetishes.
Falling from grace is the result of the progressed Midheaven in a quincunx aspect to progressed Venus. This entered in 2017, and it is about to exit. Yet there is another Quincunx that will be beginning.
Currently, he is on house arrest wearing an ankle monitoring bracelet. First, it looks like a prison sentence is very close. The progressed MC is making a quincunx aspect to his Sun. That will alter his freedom, day to day living, and may bring about confinement. The signs are Libra & Pisces, so sacrifice, incarceration, legal, and justice.
Next, we look at the progressed Moon. It is in Cancer. It is a susceptible position. In mid-November, this aspect comes in contact with his natal Uranus, which will trigger the natal cardinal grand cross with Uranus/ Saturn/Jupiter and Mercury. There is more scandal expected that can create a downward spiral. The media is going to have a field day for three months. Also, when we look at his natal chart using Munich Rhythms, the seven years of life between the ages of 63 thru 70 are ruled by the 4th house. Hence, the trigger of Uranus' aspects will be activated. It is nice to see how two different forms of Astrology confirm each other.
The more significant obstacle is in about three months from now when the progressed Moon comes in contact with his natal Saturn. Aspects to Saturn bring learning lessons. Some may call them karmic. We sow what we reap.
In calculating his solar return for New York for March 2020, I see 9th house and 12th house activity. When I do a few other techniques to this chart, the trigger time is certainly January. It seems likely sentencing is very expected.
Also, he has the possibility of more complications in other states, especially during the end of 2022. More convictions during that time are likely.
Love telephone psychic reading answering all your questions  Try the network for just $1 minute! 1-800-498-8777!  Our Network Established in 2001 and has 3 decades of experience.  We know how to staff only the BEST Psychics!
---