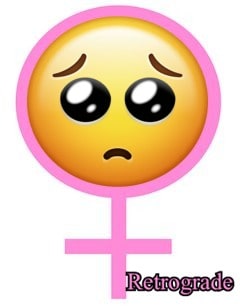 A construction business started forming a parking lot in the stat of Venus retrograde. Though beauty is not associated with a parking lot, agreements, negotiation, pricing, worker's capability, worker's motivation, and quality assistance are a problem.
Technically speaking, a parking lot usually doesn't have to look beautiful; however, a practical aesthetic is needed. Perhaps the final product may have a quirk that could have been avoided if the start date was after the Venus Retrograde under different negotiations, workers, and ideas.
Though the parking lot is to serve a new supermarket taking over a former building, I would have suggested waiting till after July 5. Though Venus turns direct on June 26, I have to factor in that Mercury turns retrograde prior.
Venus also governs negotiations and motivation. Since the current Venus Retrograde is in Gemini, effective communication and ideas are unavailable. Affection and appreciation are withheld on a Venus Retrograde.
It is advised not to start a love affair or buy luxury goods during this time because you might end up paying more than bargained for. Venus also rules beauty, art, social relationships, partnerships, romance, love, values, money, and financial security. Slow down and reassess what and who you value and why. I believe the construction of the parking lot will require a plan or staff revision after Venus turns direct.
Venus retrograde has advantages. Typically it is a period where you can get an excellent deal on antiques, second-hand goods, and flea market/thrift store items. I have observed some individuals born under a Venus retrograde that are collectors of such items. Though a good deal can be obtained, I would encourage placing a price cap on items you are willing to purchase prior to the retrograde.
During Venus Retrograde we might feel like retreating from socializing or forming relationships.
It is a valuable time to go inward to reflect and revise our loving nature. We may review our past needs, desires, tastes, and pursuit of relationships.
Sometimes unresolved issues in a relationship can be magnified. It is not time to make a decision. It is an ideal time to analyze your thoughts and slowly make the necessary modifications.
On a lighter note, it is not the time to "beautify" yourself. Venus rules beauty and esthetics. During the retrograde, there is a lack of clarity around your efforts. Therefore, the retrograde period is not an ideal time to change your appearance. So, don't begin any procedures or surgeries to enhance your beauty such as plastic surgery. This is the wrong time to change your hairstyle, hair color, do a makeover, or purchase a new wardrobe because you may not like the results after the retrograde is complete. A client of mine went in for a nasal procedure under a retrograde period. The results were mediocre. She felt the doctor was too minimal and wanted more results. So had the procedure redone with a different doctor and got what she wanted.
In essence, any new major venture started on a retrograde Venus will require re-doing them afterward or they experience delays.
Telephone Psychic Reading on AbsolutelyPsychic.com  Try the network for just $1 minute! 1-800-498-8777!  Our Network Established in 2001 and has 3 decades of experience.  We know how to staff only the BEST Psychics!