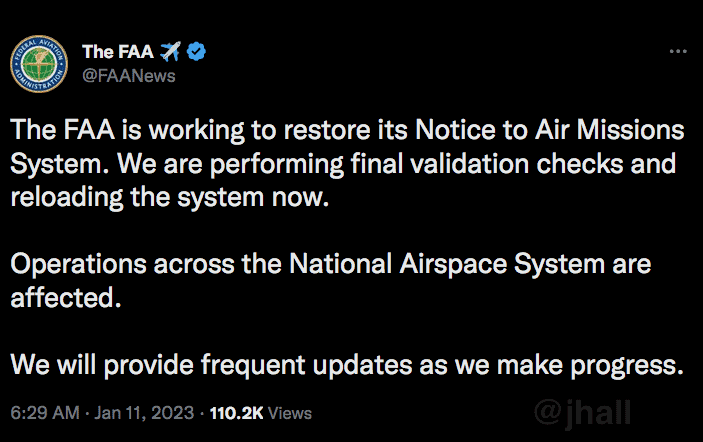 Congratulations again to Albert Ext 3030 for nailing 3 predictions in 1 newsletter! Floods/Rain (California), Travel / Technical issues FAA outage.
Predicted in October 2022. https://psychic.absolutelypsychic.com/mars-retrograde/
The FAA had difficulties with a damaged database file that paused travels.
Per newsletter << There could be difficulties, arguments, disagreements with legal, religious, travel>> and <>
Another prediction made in the same newsletter was the difficult weather/floods. Pouring rain in California (especially Northern) with a sinkhole in Southern California (Chatsworth,). << Fires, possible protests, and "Acts from God" will also be strongly themed. Hurricanes are strongly felt during this period as well as floods and possible earthquakes.>>
From 2017 through 2019, Albert provided extensive coverage of Harvey Weinstein. Well, the verdict was out mind December 20212. Per our newsletter on October 18, 2019, Albert stated <<Also, he has the possibility of more complications in other states, especially during the end of 2022. More convictions during that time are likely. >>
The verdict is out. On mid November , Weinstein was convicted in Los Angeles. We don't celebrate that victory. Instead, we celebrate our readers' victory with precise forecasting and timing precision.
How many networks have this track record? Let us know! Remember, if our readers can forecast this level of accuracy on global and public figures accurately, imagine what they can do for you regarding your love and career forecast. This is why we test read every Psychic staffed on our network. 

We have sent over 50 of these "nailed it " in our history – it's our pattern! Albert has forecasted accurately in front of all of us in these newsletters:  Rhianna's major financial success in the cosmetic industry,  Johnny Depp Court Success,  Lincoln College Cyber attack,  Presidential Election 2020,  Covid Vaccines,  Harvey Weinstein Verdict & Timing,  Madonna Health/Surgery,  Rob Ford Scandal, and health decline, and more. 
Albert is known for publicly forecasting in 1993 on his Call in TV show, Chartalk, the 9/11 bombing of the World Trade Center 2001. Everyone was shocked 8 years later.
We have a new promotion! Try the network for just $1/ Minute! Only the Best Psychics are on our network.