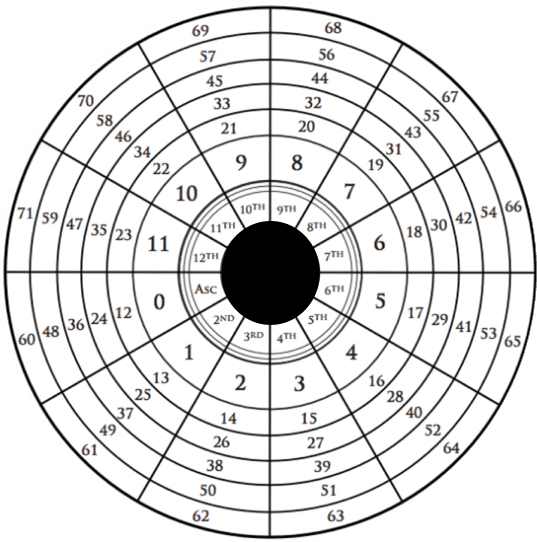 One of my favorite Hellenistic practices is Annual Profections. Yes, that is the correct word, it is not perfection. Rather it is PRO (ahead), FECT (make or do), and ION (the act of).

This was a technique developed in the Hellenistic Tradition of Astrology where each year of the person's life, the Ascendant, or the 1st house, represents the native. It advances annually on the birthday whereby it moves to the next sign and place.
Annual Profections Basics Needed:

1) House Triggered: The house issues will be propelled to the forefront of the person's life for that year.

2) Sign Triggered: The sign won't have intrinsic weight, but planets transiting through that sign are significant.

3) Planets Triggered in House: What the planet represents in the chart willrepresent the focus for the year.

4) Ruler of the Triggered Sign: This will be the planet theme most symbolic for the whole year. The location of that ruler natally, the ruler, and aspects are important.

If you look at the wheel, the houses in modern are used. Themes around one's career would be activated at age 9, 21, 33, 45, 57, and 69 as the 10th house is activated. Love life is triggered at ages 6, 18, 30, 42, 54, 66 as the 7th house is activated. Each house repeats itself in 12-year increments. Surely, there are differences for a 6 year old having a first crush versus an 18 year old having the most serious experience.

When we layer the above periods with the 4 guideposts, insights as to the specific themes for that period are available. It is important to factor in the condition of the chart at birth. Also, the house system in place for this technique is quite different. The whole sign system was used instead of the modern chart. This may shift signs and planets in the chart.

For example, I have a client that her 2nd house (money, possessions, and finances) triggered at ages 25, 37, and 49. Indeed, financial matters were the main themes for those years. However, that did not mean that those years' finances were great. At age 25 her earning capacity increased. At age 37 multiplied with extreme power struggles as she experienced a divorce. At age 49, she encountered severe financial losses and setbacks. Yet, the theme for all those years revolved around finances. So, the Hellenistic tradition worked fine. However, modern techniques define specifically if those years will have gains or losses.

Though I do believe Annual Profections should not be used as a stand-alone technique, it will confirm themes, especially when eye-balling a chart on the spot.

Next, I'll share a Zodiacal Releasing based on the Hellenistic Astrology.
For Trusted and Accurate Psychics, visit our site. Try the network for just $1 minute! 1-800-498-8777! Our Network Established in 2001 and has 3 decades of experience. We know how to staff only the BEST Psychics!