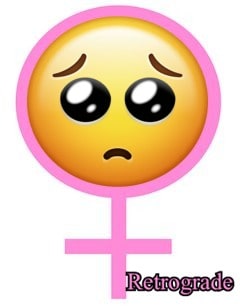 Years ago on a prior Venus Retrograde, Facebook went public. There were a lot of issues that took a while to iron out. Though they have grown abundantly, it came with wrangles. As for investors, making any major portfolio shifts is not recommended. Making any major economic decision may not be wise because the market may be too pricey or not the best promising period. Please wait until after July 5th.

There are a few celebrities that are poster children for very bad plastic surgery. I won't mention names.  We know who they are!  They either went to a butcher or overdid it. Some have gone under the knife during a Venus Retrograde and did not like the results requiring a revision. 


On a Venus Retrograde never get married, start a new job, or start a new relationship. So is living under a rock recommended? Of course not… I observed something very fascinating that does work on a Venus Retrograde.


A radio station fired its' main announcer years ago. The station lost ratings. He was brought back during a Venus Retrograde. In that instance, re-evaluating a previous relationship that went awry became beneficial as it was revisiting a previous disagreement.


Reviewing the value of a person or relationship is strong during a Venus Retrograde because Venus also rules our taste, ability to express appreciation, affection, and experience satisfaction.


So re-embarking an previous job, relationship, or  friendship may be very positive. However, tread with caution especially when contracts are involved. It is a wonderful time to re-purpose items that are hardly used.  Go through your possessions and you will find creative outlets for their usage. 


I was told that antiques become quite popular during a Venus Retrograde because one re-inspects old items that have gone through many owners. I have an acquaintance with a progressed Venus Retrograde that is an antique collector.


So what happens to new  items purchased on a Venus Retrograde? You might return them because you may not like them or see their value is worthwhile. I once bought a cheap shirt on a Venus Retrograde and never used it. It still hangs somewhere inside a drawer.


New people that enter your life on a Venus Retrograde will appear different after the retrograde is completed.  

The most important tip I can share is to avoid making any major purchase or renovating during this retrograde.
Tarot Goddess Readings online and by phone on 1-800-498-8777. Try the network for just $1 minute! 1-800-498-8777!  Our Network Established in 2001 and has 3 decades of experience.  We know how to staff only the BEST Psychics!