The planets in Astrology urge. They do not force. Planets are never the fault, they simply have an impact. Our free will, character development, schooling, and intent co-determine destiny.
Saturn is transiting through Smith's MC square his natal Moon in the 6th (work/employment.) Saturn brings honor for hard work and learning lessons. Sometimes the lessons seem unjust. It can increase productivity, workflow, work pile, and issues with authority figures.
The achievement of winning an Oscar is a highlight.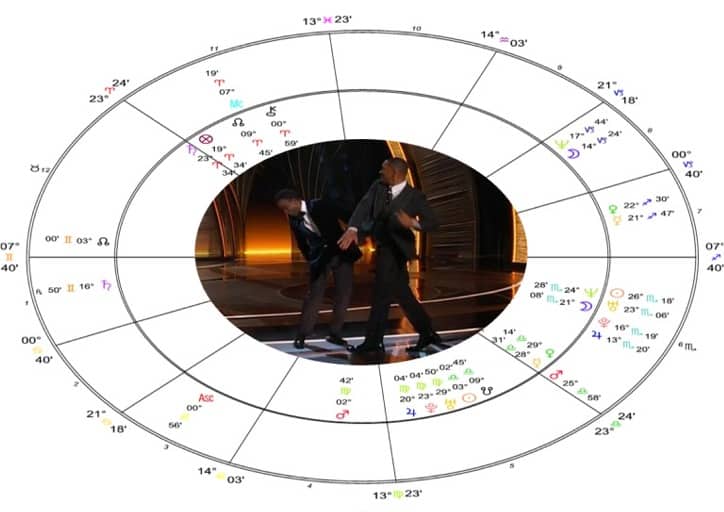 On a side note, the last time transiting Saturn was in this exact position (1992), Smith's fame rose from his role in "Where the Day Takes You" and "6 Degrees of Separation."
The Moon in Astrology governs emotions. Saturn's transit to Smith's Moon in Scorpio will bring learning lessons around detaching emotionally. The current transiting Saturn in the sign of Aquarius will teach lessons surrounding rationality, using words/ideas instead of emotions.
Smith's natal Moon in Scorpio is defined as a fall position as the Moon may overreact to situations as intense feelings take over. This is a severe learning lesson for smith in working out his emotions and choosing responses that seem fit. The Moon in Scorpio has a strong gift, mindfulness wisdom through attainment.
There is another more intensive transit that has impels impact: Transiting Pluto is squaring Smith's natal Mercury and Venus setting off a cardinal T Square with Saturn. Since the transiting Pluto is going through the 9th house, there are issues surrounding legal matters and publicity. Often, Pluto can bring out matters from the past. Pluto aspects are skin deep. This is a huge wake-up call. It is the power of rebirth and transformation. When contact with Mercury comes into play, it will transform a person's way of thinking.
Contact with Venus will transform a person's affections and interpersonal skills.
In a T Square, the empty house of the configuration is where the activity takes place. In Smith's chart, the 3rd house is where all this will play out: communication, news, thinking, and speaking.
Pluto takes additional overtones in Smith's Solar Arc Direction. Currently, Smith has SA Venus is square natal Pluto. Since these 2 are also paired up in the transit, this is a strong message regarding a change in the way people view him and work changes as Venus rules his 6th house (work) and 12th house (subconscious mind.)
Moving forward, these next few weeks (April thru end of May 2022) will bring legal and disciplinary consequences for Smith as Pluto continues aspects by transit and direction. Transiting Saturn will form a quincunx to Smith's natal Pluto resulting in a possible change, adjustment, loss, compromise, and consequence for his behavior.
The consequences seem severe. This will impact his ability to work, but more importantly, it will impact how the Academy votes on consequences.
Will Smith Hellenistic Astrology
When working with Annual Profections, Smith's current age is 53. Since September 2021, he has been in a 6th house Profection year.
The focus from September 2021 to 2022 is on work and day-to-day routines. The natal ruler of the year is the 6th house, Venus and Pluto.
Most would disagree that it should be Mars instead of Pluto.
However, when we compare this additional confirmation to the transits and solar arc directions, Venus/Pluto themes repeat. When we examine the natal condition of these planets and see the opposition from natal Saturn is highlighted. The public will have a change in how he is perceived requiring learning lessons in his behavior.
Annual Profections were used as a standalone technique in medieval Astrology. With the evolution of Astrology, I use them as an add-on confirmation tool.
In a different article, I will cover Chris Rock's chart. Briefly, this will have the opposite effect on Rock as in the next 5 years he will continue climbing up the success ladder.
Will Smith more links
Jada Pinkett & Will Smith Relationship Analysis #2 Davison Composite Chart

Jada & Will Smith Relationship Analysis Midpoint Composite Chart

Jada Pinkett & Will Smith Love Compatibility Analysis
Will Smith – Moon in Scorpio Control Issues

Will Smith Oscar Slap

Trusted and accurate screened before hired Psychics. Telephone Psychic Readings, Psychic Chat Readings, and more. Try the network for just $1 minute! 1-800-498-8777!  Our Network Established in 2001 and has 3 decades of experience.  We know how to staff only the BEST Psychics!