The increasing worries about the Corona Virus Covid-19 Virus have escalated in the last few days since the Full Moon in Virgo. The Moon in Virgo is fastidious about hygiene, sanitation, perfection, and extreme worry. The Moon in Virgo is the worrywart of all Moon Signs. Unfortunately, there is a lot of misleading astrological information circulating on the internet. I saw some videos that I had to click off because the information was incorrect and spoken as if it were official information.

In approximately 3 weeks there can be some promising advancements to help this virus. Yet, there is something more important that needs to be factored: one's chart!

To get sick requires having a health aspect in the chart. More importantly, it has to be in the natal chart. In other words, if the natal has inflicted health aspects, one's health is vulnerable. Then a cycle needs to trigger it. Regardless of a pandemic, it has to be in both the natal chart and in a transit/progressed/solar arc cycle. The 6th house in the natal chart is where we examine health issues. The Ascendant is the physical body that needs to be factored. Finally, the Sun, the giver of life and the essence of one's being, need to be aspected in the chart.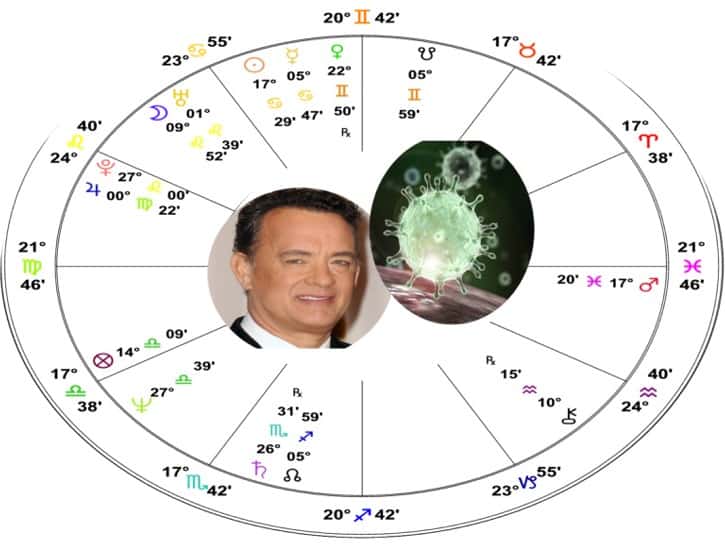 Tom Hanks tested positive for Covid-19. His natal chart is classic for health vulnerabilities. He was born with Mars in the 6th house, the house of health. Mars in the 6th is vulnerable to infections. Aspects to planets to and from the 6th house can also be vulnerable. Tom has 4 hard aspects from Mars in the 6th house: Mars opposite the Ascendant, Mars Square Midheaven, Mars Square Venus, Mars Sesiquadrate Uranus. This translates to surprises with health, vulnerability for infections to spread socially, and/or from work.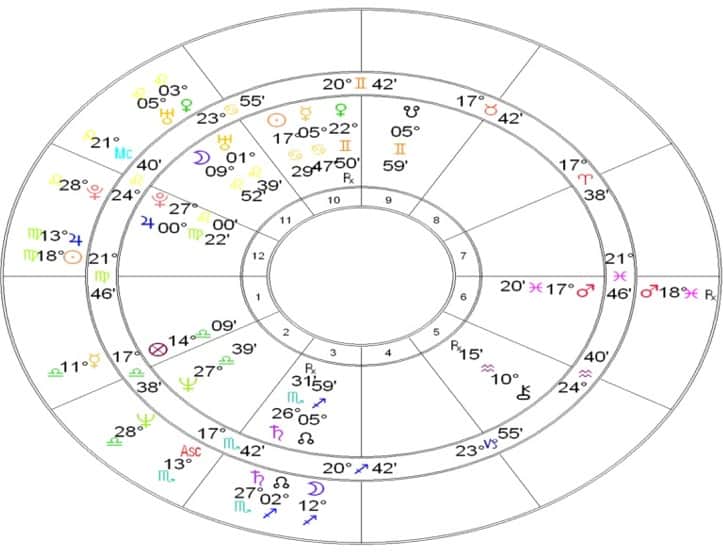 In his progressed chart, progressed Sun is opposite the Progressed Mars in the 6th. This is a classic health issue and open to infections. But note, this was triggered with the Full Moon in Virgo last weekend. Furthermore, one has to examine this Progressed Mars as it is retrograde by Secondary Progression making it even more vulnerable to infections.

The transit of Neptune going through the 6th house in conjunction with Progressed Mars must be factored in. Transits to progressions are only applicable when there's an aspect from Progressed to Natal chart. A cycle of such kind will bring confusion and throw one off course. Neptune can dissolve whatever it touches. Mars has to do with vitality and strength. Mars also rules battles, the head, and fevers.

Exercising practical and mindful behaviors are vital to stop the spread of any health concerns. Yet, panic is unnecessary. Retail stores sold out of hand sanitizer. Online it is resold for a severe markup. Vendors that are profiting from such markups probably have financial increases in their charts! It's all in the chart always.
Psychic near me for amazing insights now First 5 Minutes Free 1-800-498-8777! Our Network Established in 2001 and has 3 decades of experience. We know how to staff only the BEST Psychics!