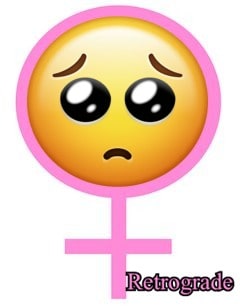 From October 5 till November 16, is another Venus retrograde. Dodge taking a holiday as it will not be pleasant. It will be an ideal time to reflect on the delight and profits derived from one's ambitions and efforts. Romantic and business partnerships can be severely tested. Bypass making significant financial shifts or purchases as they will be regretted later. The books claim that during a Venus retrograde, the market is too expensive, be very careful making new investments or making long term investments. Starting a new job on a Venus retrograde will be regretted afterward. I have seen this over and over where the person either detested the job after Venus went direct or they wound up discovering coveted information.
Affection is stagnant and inwardly expressed.  This is not a time to start dating or get married.  If you are paying for matchmaking or dating service, freeze your membership. This will not be the best time to start swiping left or right on a dating app.
The upcoming Venus retrograde will be at 10 degrees of Scorpio.  History repeat's itself.  Review what was going on in your life during the previous retrogrades periods that were close to the same position as follows: 10/1994-11/1994, 10/2002-11/2002, and 10/2010-11/2010.  There will be similarities where you review and revise what you find pleasurable and worth bonding onto. This is truly an art of reflection. Take a stroll down memory lane and write down what was going on in your life. If necessary, consult a calendar. You will see many similarities.
Once Venus turns direct on November 16th, Mercury goes retrograde for 3 weeks.  Though much of the Venus Retrograde influences will be clearing up, avoid contracts and new deals until after December 2. The coast will clear up once again.
Technically speaking, the full effect of a planet's retrograde is wiped out after it reaches its shadow period. So on December 17th, the full impact of Venus Retrograde is gone. Sure, after December 2, the energies improve. One can carry out ne
Worried about your love life?  Find a Psychic near me now!  Try the network for just $1 minute! 1-800-498-8777!  Our Network Established in 2001 and has 3 decades of experience.  We know how to staff only the BEST Psychics!