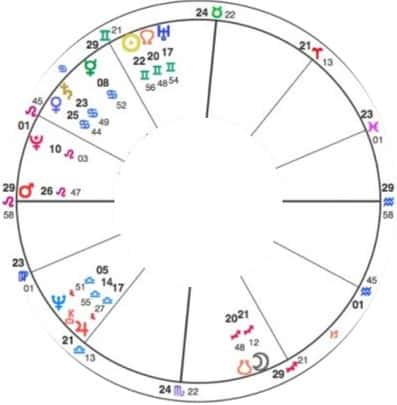 In the Astrological chart, the 4th house, the Moon, planets in the 4th house, and the ruler of the 4th house describe the mother and the person's emotional essence.

By the appearance of Donald Trump's Moon, it is clear; there are a lot of emotional conflicts when it comes to harnessing healthy and nurturing relationships. Donald Trump's Moon in Sagittarius describes a person that may have disagreements with having emotional needs fulfilled, stiffened emotional growth, low nurturance, challenges with honesty, and emotional ups and downs.
Donald Trump has a lot of mother issues in his chart:
Moon Conjunct South Node 20 Sagittarius: This aspect can bring a very dominant mother that may require too much attention and stir a bit of drama. This is also a very clairvoyant aspect where the mother could have been into the new age, astrology, and divination. More importantly, the mother may be a bit high maintenance and resort to dramatic theatrics to get her way. Guilt-tripping is typical of this combination. I call this a very histrionic mother because the mother may unusually behave like a soap opera character. In turn, this can be exhausting and draining. Typically, when the south node aspect, it debilitates that planet.
Ruler of the 4th house, Pluto 10 Leo in the 12th house: In medieval times, planets in the 12th house usually indicate limitations and sorrows. There may have been an emotional absence from the mother. In childhood, nurturance was based on a hidden agenda. The mother may require special care in the elder years. The child may feel imprisoned by the parent emotionally. As a result of the role modeling provided by the parent, there may have been limited development.
The nature of Pluto is to purge and transform. Emotional power struggles are daily, as conflicts in the household occurred with the roles the parents portrayed. Love may have been conditional based on accomplishments.
Moon 21 Sagittarius Opposite Uranus in 17 Gemini: This is a problematic aspect. This can manifest in an emotionally on again/off again, mother. The emotional nature of the mother may have been all over the map. This aspect, in combination with Moon Conjunct South Node, indicates a mother that may have had mental health complications. It is a very emotionally unstable position. This often lacks empathy.
The problem with this aspect is feeling emotionally crowded each time an emotion comes to the surface. In turn, this can make the person emotionally neglectful in a relationship.
Trump's mother, Mary Anne Trump, had a Moon in Aquarius. Uranus rules Aquarius. This certifies the mother needed a lot of space and may have felt restricted in parenting her Moon is square to Saturn in Taurus. Too, with Taurus, themes around stability/instability are prevalent.
Moon 21 Sagittarius Opposite the Sun 22 Gemini: Though this aspect can fuel ambition, it also separates. It can go in either direction, depending on the rest of the chart. Emotional separations due to being emotionally unavailable are frequent.
Moon 21 Sagittarius Quincunx Saturn 23 Cancer: The quincunx aspect creates an emotional separation from the mother. There are emotional communication problems with the mother. In the sign of Sagittarius, it can be an expansive sensitive nature that crashes against over heightened emotions (aka super moody) Cancer. This also creates communications with relationships, especially with women.
Moon 21 Sagittarius Quincunx Venus 25 Cancer: This is another complicated combination where the mother may have been difficult to please. Perfectionism and high demands are impossible ever to fulfill. It can make a person an overachiever. This also creates trying to balance nurturance versus freedom in one's relationships.
In a chart, an inflicted Moon usually has challenging aspects. In turn, a person can become emotionally stifled, disconnected, and suppress their emotional nature. Emotionally limitations create severe nurturance problems in relationships as the expression is suppressed. Through time and effort, one can rise from those natal positions, hence Secondary progressions. Some people may be stuck in their natal charts, whereas other people become more like their progressed chart.
On a final note, with all these bottled up emotions, can you see why there is a strong flamboyance from Donald? Hence, Leo rising does everything over the top!
Free psychic reading on all matters of the heart. First 5 Minutes Free 1-800-498-8777! Our Network Established in 2001 and has 3 decades of experience. We know how to staff only the BEST Psychics!