The Solar Return chart is drawn from birthday to birthday. It is a snapshot of the heavens at the exact time and place where your Sun returns to the exact position it held at birth.
Though there are more than 3 reasons a Solar Returns is an excellent prediction tool, the main ones are:
 
1) Predict pieces that will occur for you during your solar year. With so many predictive methods available, this tool can help get to the heart of what will be the theme for the year immediately. It defines conditions, feelings, emotional states, and what each area of life will experience. 
2) Confirm themes that show up in more significant predictive tools. In my professional opinion, I believe more emphasis needs to be placed on other predictive tools such as Progressions.
A Solar Return that shows a similar pattern to a progressed cycle adds additional confirmation. Also, when a natal pattern is repeated, it emphasizes the energy for you.
3) Assist in timing for relocation analysis. The Solar Return is calculated for the place of residence, not the place of birth. If one lives or does business in multiple locations, this is a great tool to utilize for analyzing efforts. For example, a business owner discovered a new business location that had potential. This tool confirmed it. It also confirmed the following year to pull away.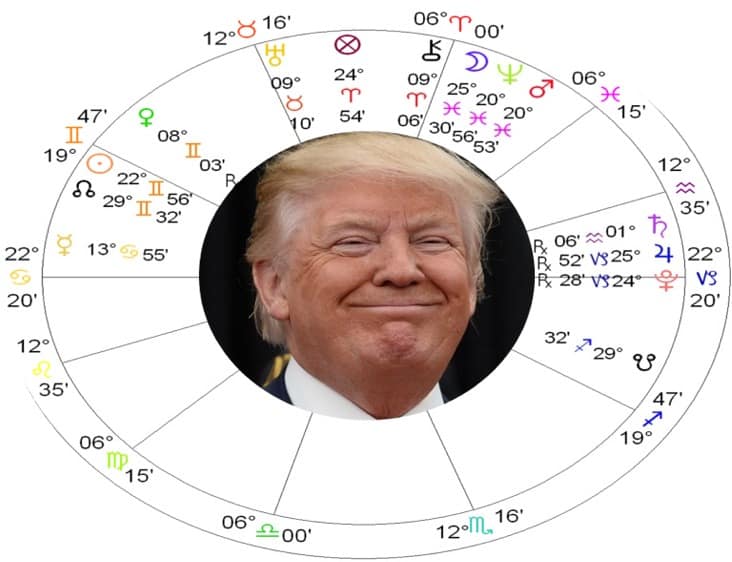 Donald Trump has a challenging Solar Return. The chart ruler is in Pisces square his Sun in the 12th house. This can bring lawsuits, health problems, and hospitalization. Thought the Solar Return is not a standalone tool, other predictive tools demonstrate health issues are highlighted in December. Also, the aspect Moon and Sun make in the solar return chart is repeated in
January 2021. Health again is an issue.
Next, the South Node in the 6th house indicates health problems.
Mars conjunct Neptune in a Solar Return can result in infections. Since the sign is in Pisces, hidden matters may surface. Could there be another type of "Stormy Daniels" out there? The field day the media will have will increase.
Psychic reading online  on AbsolutelyPsychic.com  Try the network for just $1 minute! 1-800-498-8777!  Our Network Established in 2001 and has 3 decades of experience.  We know how to staff only the BEST Psychics!