Psychic Myths#3 Spells-Don't Ever Fall For This!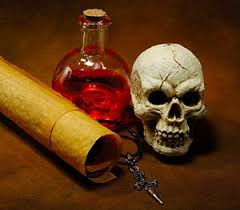 I've heard it all at this point in my life.  This includes silly Psychic Spells performed as rituals  from breaking a coconut at an intersection, getting a cleansing with a live chicken, or burning candles in order to rid bad luck.
Though I do believe such amulets serve as a placebo effect so one can think more positive and make better or more effective efforts to improve circumstances, there is no way possible to make a cycle exit faster that has an influence in a person's life.  However, I believe that applying mindfulness in interacting with others, regulating one's behavior, and surely developing emotional strength gives rise to improving circumstances.  So if an amulet can help with that – so be it.  Yet, maturity, therapy, spirituality, religion, new age, yoga, and more can lead one to the same path of mindfulness.
Mindfulness will not convert a non interested person to suddenly become attracted to you.  Also, mindfulness will not converted a non interested business into hiring you.  Rather, mindfulness can lead you to understand and accept the circumstances, create a better life (change,) and conger new prosperous ideas.  Unfortunately, those that create spells do not understand that concept.  After all, their goal isn't to help; it's to collect a payment.  There is a hidden agenda fueled by deception and/or psychosis by such "spell casters."
For example, I know someone that underwent major career hardship.  She worked very hard and the results generated were minimal.  She was extremely dissatisfied.  Surely, she did many things, burn candles etc..
However at the end of the day, what she needed was a true reading to get to the core of her career issues.  First, she needed to re-evaluate the path she was pursuing.  Next she had to go back to college.  Later on after a few years she became a successful entrepreneur.
Being able to have a clear cut reading to explore options and see other areas she could also manifest into success was more important for her.
I am a firm believer in fixing a problem.  When there is a problem there are 2 solutions:  do something about it or do nothing.  At the core of the issue, it's important to know where one's potentials can be used more successfully.
When it comes to love, the same thing applies.  Yet there are patterns that one may need to change and personal issues / baggage that may need resolution.  Also, sometimes it is a timing issue.  Surely to create a spell/amulet etc.. to attract, isn't going to change a person's destiny.
It gives our industry a bad wrap when a fake psychic abuses a client by claiming he/she has a spell and must pay in order to have that hex removed.  Seriously?! There's just no way possible that one can shoot something into the sky to make a cycle enter or exit any faster.
I believe in the power of timing and power of change over time.  The best analogy I can correlate is losing weight.  It requires perseverance, discipline, hard work, restriction, and time.  If you want change, you need to make it happen.  Moreover, a true reading can look into the timing of when such changes will take place and the best course of action to change in making possibilities happen.  No silly hocus-pocus or breaking a coconut will do the trick.   Besides, there are better things one can do with a coconut!
---