Composite charts come in 2 forms. The most famous composite chart is the Midpoint Composite Chart. Another kind of composite chart is the Davison Composite Chart. Though the Davison isn't used too frequently, duplicated themes in the composite charts confirm and highlight inter-aspects.
I have seen where composite charts provided detail that could have been neglected when examining the inter-aspects. Sometimes inter-aspects compatibility between two people appears "okay." Yet, the Composite Chart demonstrates promise. In this case, it helped provide detail on where they can improve their relationship. I have seen the reverse, where compatibility was incredibly harmonious but the Composite Chart seemed bland.
The best part of the Composite Chart is for timing. I have seen Composite Charts indicate altering events in the relationship such as pregnancy, divorce, and other significant impacts with on-point timing. In my opinion, Composite Charts should only be used when a time of birth is available for both parties.
Before examining a composite chart, an examination of love potentials within each chart is a must. Please refer back to Jada Pinkett's chart and Will Smith's chart. Then the inter-aspects need more weight. A composite chart is saved for last.
Midpoint composite: This composite chart is the most commonly used. It is calculated by averaging both charts by midpoints. The zodiac signs that fall into this chart need to be ignored because it is not a chart that exists in time and space. It is used to only see house placements and aspects. Some Astrologers disagree on this too.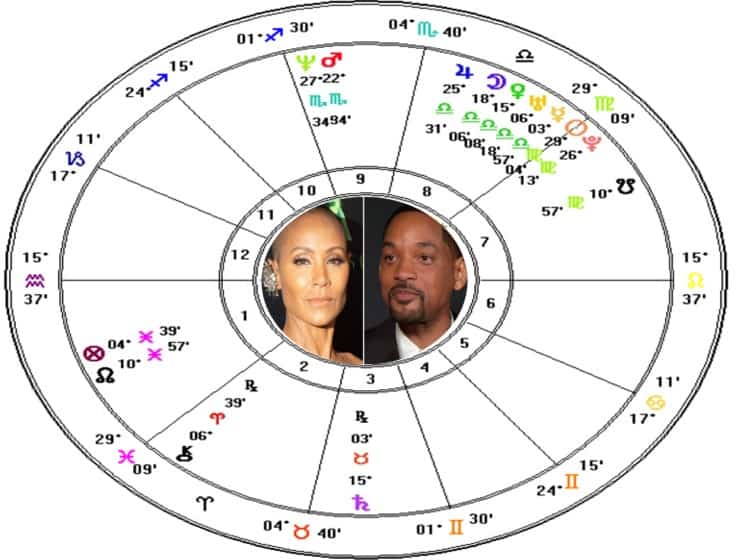 The stellium of planets in the 8th house indicates every facet of this couple's life is controlled. There may be conflicts of freedom versus rigid control. Advisors to the couple such as lawyers, family members, etc. may give their unsolicited options by instructing or controlling what to wear, eat, speak, and share about in the public eye.
The 8th house transforms a person's life. It is death and rebirth. Strong intimacy, emotional, financial, and career support the couple brings to each other. This is a strong placement for producing as other people's money is generated. Together they have produced a lot of ventures. This brings several themes of who wears the pants in the relationship. Will and Jada each contribute controlling reigns to the relationship too. Jada has a stellium of planets conjunct Pluto in her chart. Will has a Jupiter / Pluto conjunction in his chart. I have seen many with this 12-year recurring aspect with control issues.
There may be some deeply rooted and unresolved psychological and addiction issues present in the relationship with a loaded 8th house. Per Wikipedia.org, it stated Jada was a former drug dealer in her youth and her mother was a heroin user that now has over 3 decades of recovery in Narcotics Anonymous. Natally, Jada has a Neptune and Jupiter conjunct the Ascendant which is highly addicted to escape, fantasy, illusion, sex, love, and more. Neptune on the Ascendant is classic for these theme. Jupiter enlarges the nature of any aspect including this one. Think of it as the largest Neptune conjunct the Ascendant aspect possible.
Also, per Will's autobiography, he shared the violent physical abuse his mother endured growing up. These themes never go away without effort. This is why many undergo healing and recovery modalities such as Astrology, New Age, 12 Step programs, counseling, etc. Healing and recovery is a lifelong journey. On a very positive note, the 8th house is about transformation and these 2 can assist each other in that reawakening.
Midpoint Composite Chart Aspects
Saturn square Ascendant from 3rd house: Learning lessons and communication restrictions. Much of the information shared in this relationship may be under a tight lip. Yet, there is a problem. If we review Jada's chart, she has Sagittarius rising which is about candor and frankness. Will has Gemini rising which is all about communication. More than likely this pair may disagree on what, how, and to whom information was divulged.
Venus quincunx Saturn: There are obstacles with timing, stability, and durability. Often one may feel financial pressure to stay in the relationship based on assets. Freedom from tight responsibility becomes overbearing. Some may disapprove of this relationship. Staying in the relationship for the status-quo is the #1 problem with this aspect.
Try the network for just $1 minute! 1-800-498-8777!  Our Network Established in 2001 and has 3 decades of experience.  We know how to staff only the BEST Psychics!