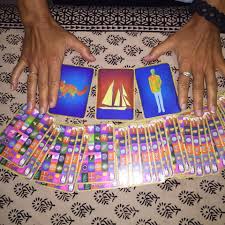 What do you do when you misplaced something, and you want to find it again? Scour for it of course, but it would be nice if you would have an idea where to look. Not everyone would think of getting a Tarotreading. Through understanding, I have found some ways to deal with missing things.
First, it is important to determine if the missing item is still inside the house. A good way to find this out is to shuffle your cards so reversals can come up, and then draw one card. If the card drawn is upright, the item is still in the house. If the card is reversed, the item is not in the house anymore, it could be gone with the trash or could have been lost outside of the house.

Let's assume you found that the item is still inside the house. It would be great to narrow the places to search down a bit, especially if you live in a big house. Make a list of all the rooms in your house, like kitchen, bathroom, bedroom, living room, and make sure that the description of the rooms are clear. For instance, if there is more than one bedroom, give all of the bedrooms a different name. Using this list, you can draw a card for each room. If a card is reversed, you won't find the item in the room that card was drawn for. Ideally this method would leave only one room in the house to search, but usually you end up with two or three rooms left.

Now that you know in what rooms to search, it is handy to get some more details about where exactly to look inside those rooms. Draw up to three cards, you don't have to use reversals this time. Use the cards you drew intuitively, see if any images or ideas come up when you look at them. For instance, if you draw the 9 of Pentacles from the Rider Waite tarot, the missing item could be near a mirror, dresser or wardrobe. If you draw the 9 of Swords, the item could be near a bed. If you draw the 6 of Pentacles, it could be near things that hold memories for you, like photo albums, pictures, or diaries. Use your imagination with this, and allow your mind to drift back to the past.

After these steps, make a summary of your findings, and then start searching again. This time, you will have a list of rooms and clues, so your search will be much more productive
Check out todays Horoscope and more!    Try the network for just $1 minute! 1-800-498-8777!  Our Network Established in 2001 and has 3 decades of experience.  We know how to staff only the BEST Psychics!